On Sunday July 20th after a nine and a half hour flight crossing 7 time zones Michael arrived in Amsterdam at 7:20 AM. I met him at the airport and we headed back to my room so that he could shower before we left for Belgium.
Unfortunately due to a flight cancellation the day ended up being all travel but planes, trains and a taxi got us to "Kasteel Ten Berghe" or in English "Castle to Brugge" at around 9 PM.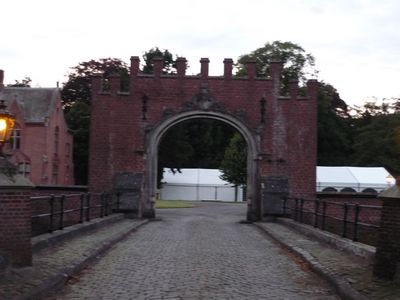 The Entrance Gate
The white tent is from a wedding that was held the previous day.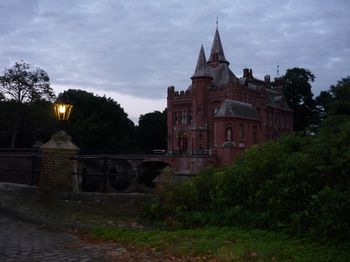 Picture of the castle taken outside the entrance gate at night.
It must have been around 10 PM or later before we walked around the outside taking pictures. The sun sets very late in all three countries we visited.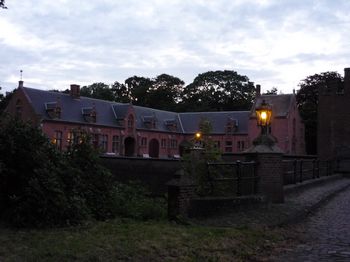 The building on the left of the entrance gate.
The Castle was awesome both inside and out. There was a courtyard and several buildings other than the Castle itself and the castle had a moat around it.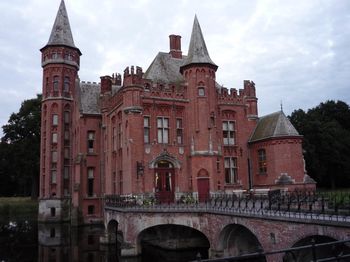 Kasteel Ten Berghe taken from within the court yard.
Self portrait taken by Linda...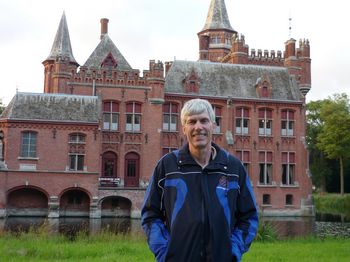 Michael on the other side of the moat.